Psychedelic maze cartoon of a white glove for full cavity search.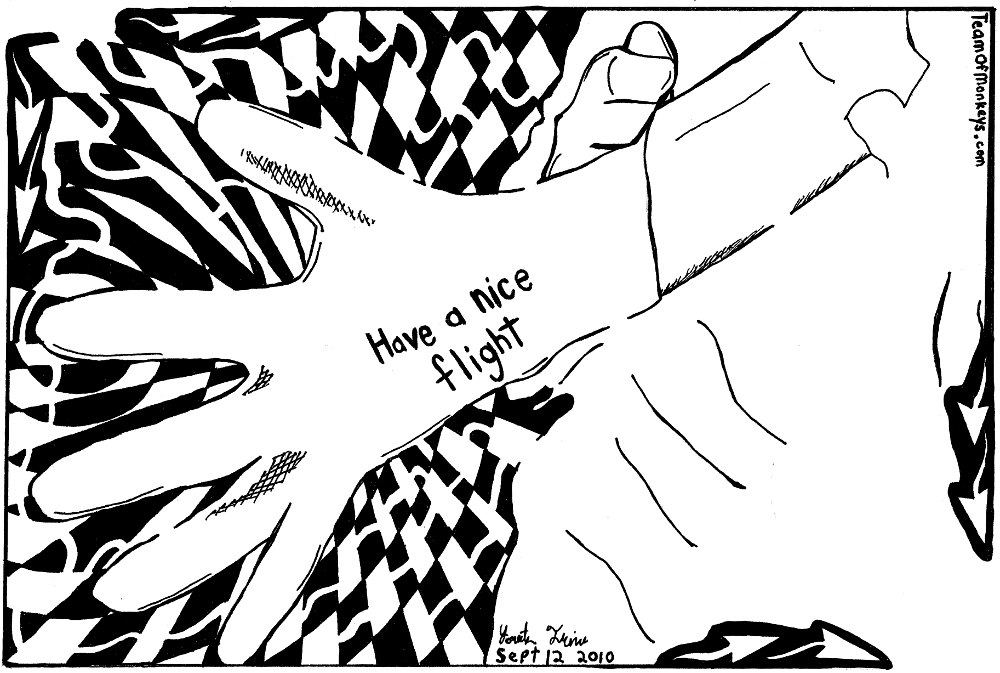 Maze cartoon by Yonatan Frimer about the invasion of privacy caused by the security measures at airports and the full body scanners.
Click here for a printable, hi-res file of white glove maze.
Click here for the solution to white rubber glove maze.
Next Maze >>
Article on the topic of this maze cartoon:

If you object to getting screened at the airport by the new full-body scanners that peer through clothes, you can choose to subject yourself to a full-body pat-down search.
But be warned that the Transportation Security Administration has begun an "enhanced" pat-down procedure at certain airports.
TSA officials confirmed that a new procedure is in use. But they declined to describe the procedure or say where it is being used.
"We are in the process of evaluating and updating our procedures at airports across the country," said Nicholas Kimball, a TSA spokesman.
According to the American Civil Liberties Union and news reports from Boston and Las Vegas, the new procedure may involve some heavy patting and probing.
"To call it a pat-down is a euphemism," said Christopher Ott, a spokesman for the ACLU in Massachusetts. Ott said he has heard from several passengers flying through Boston's Logan International Airport.
Under the older procedure, TSA officials pat passengers to identify hidden objects, using the backs of their hands to search sensitive areas of the body. Under the new procedure, Ott said, TSA screeners feel and prod passengers with their palms and fingers.
Next Maze >>