Maze cartoon on volatility of stock markets. By Yonatan Frimer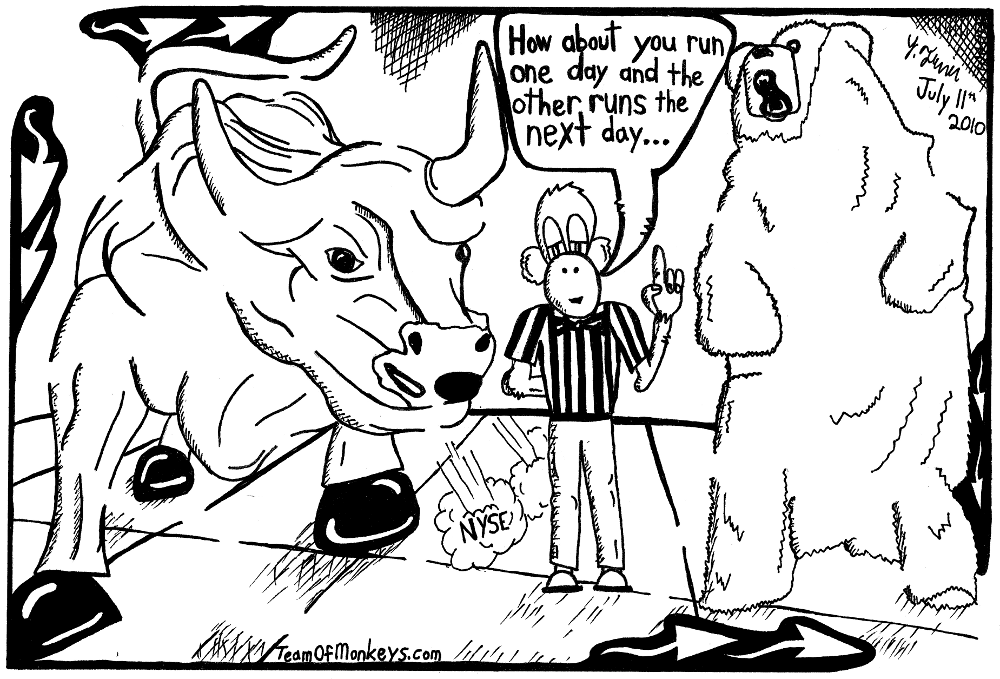 Maze cartoon of a bear and a bull in a room with a referee who says, "How about you run one day and the other runs the next day..." Created by Yonatan Frimer
Click here for a printable, hi-res version of this maze
Click here for the maze solution of bulls and bears
Cartoon topic in the news:


Earnings reports could spark summertime market rally
TORONTO — Investors could find a reason to extend last week's strong advance on North American stock markets if U.S. second-quarter corporate earnings, the first of which are expected Monday, live up to high expectations.
"If we can get some confirmation from the earnings and then the stocks rally on that, it will be a very good sign that we'll have a decent summer," said Blair Falconer, portfolio manager at HSBC Securities.
North American markets finished higher last week, with the TSX up 3.34 per cent and the Dow industrials ahead 5.28 per cent as bargain hunters moved in following big slides of over four per cent the previous week.

Projected profits rise as stocks fall
NEW YORK — Analysts are raising earnings estimates for U. S. companies at the fastest rate since at least 2004 during a quarter when stocks have posted some of their biggest losses in 16 months on concern that the economy will sink back into a recession.
Profit for companies in the Standard & Poor's 500 Index now are expected to jump 34 percent this year, according to more than 8,000 estimates compiled by Bloomberg. On March 29, the projected increase had been 27 percent. The revision is the greatest during any quarter in at least six years.
But lower-than-forecast home sales, manufacturing and private-sector job growth have sent the benchmark gauge for U. S. equities down 11 percent since hitting 1,217 April 23, despite last week's rally.