Maze cartoon of Israel on the 4th of July. Created by Yonatan Frimer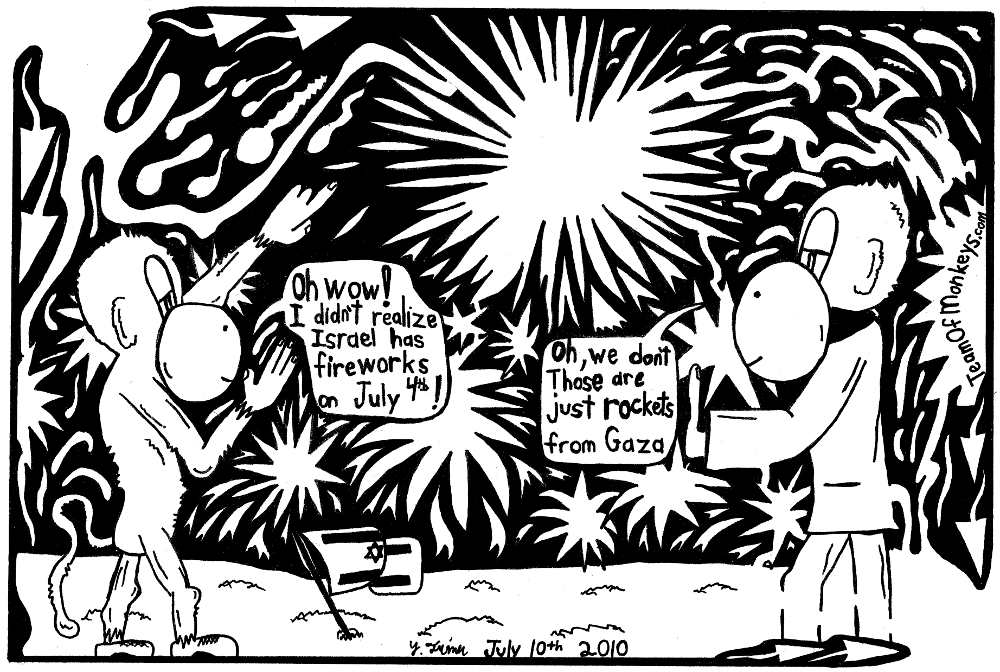 Maze cartoon of Israel on 4th of July. As fireworks appear in the sky, one monkey says to the other, "Oh Wow! I didn't realize Israel has fireworks on July 4th!" The other responds, "Oh we don't, those are just rockets from Gaza."
Created by Yonatan Frimer
Click here for a printable, hi-res version of this maze
Click here for the maze solution Gaza on July 4th
Cartoon topic in the news:
Qassam hits building in southern community
A Qassam rocket landed near a building in one of the communities in the Sdot Negev Regional Council early Wednesday, causing damage to a packing-house. There were no reports of injuries.

Avi Aptelboim, head of the community's emergency squad, reported that "a Color Red siren was sounded at around 4 am, followed by a rocket which landed inside the community, near the packing-house. The packing-house sustained heavy damage and it won't be operated today. There were no injuries, thank God."
"The rocket landed right next to the packing-house.
The equipment near the packing-house was damaged, and the building itself sustained damage from shrapnel," said one of the residents.