Maze Cartoon of the Afghanistan handoff between Petraeus and McCrystal.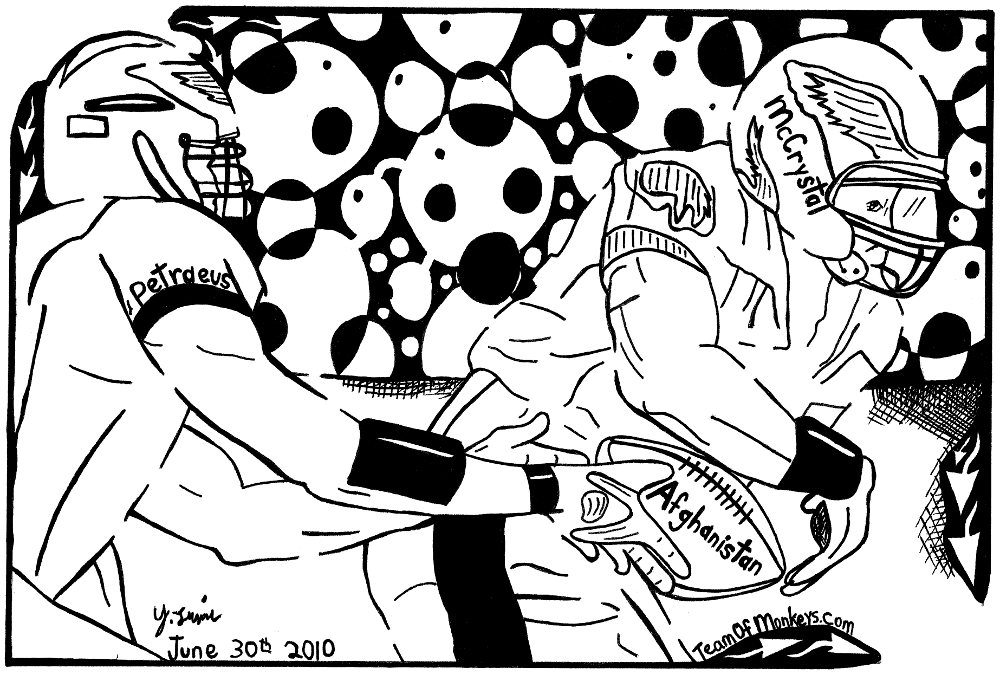 Cartoon maze sports analogy of an NFL football handoff between Petraeus and McCrystal as generals for the war in Afghanistan. Created by Yonatan Frimer
Click here for a printable, hi-res version of this maze
Click here for the maze solution to Afghanistan Handoff
News on this cartoon's topic
Gen McChrystal removed
WASHINGTON - US PRESIDENT Barack Obama yesterday removed his top US commander in Afghanistan following a public flap over the general's controversial remarks to a magazine.
The unceremonious exit of General Stanley McChrystal injected greater uncertainty into the troubled war effort, taking place just as the United States was about to launch a major offensive in and around the key southern Afghan city of Kandahar, the stronghold of the Taleban.
Gen McChrystal, who derided the Obama administration and its handling of the war in Afghanistan in a lengthy profile in the Rolling Stone magazine, was summoned to the White House yesterday to explain his remarks.
After a 30-minute face-to-face meeting, Mr Obama said he accepted the resignation of the petulant general and relieved him of his command of US forces in Afghanistan. 'It was a difficult decision, it saddens me to lose a soldier who I've come to respect and admire,' said Mr Obama, noting that the decision was not prompted by the 'personal insult'.
'But war is bigger than any one man or woman. Difficult as this is, it is the right decision for our national security.'
(Click here to read the full article)