Maze Cartoon - Iran is stuck between a rock (Iraq) and a hard place (Afghanistan) Created by Yonatan Frimer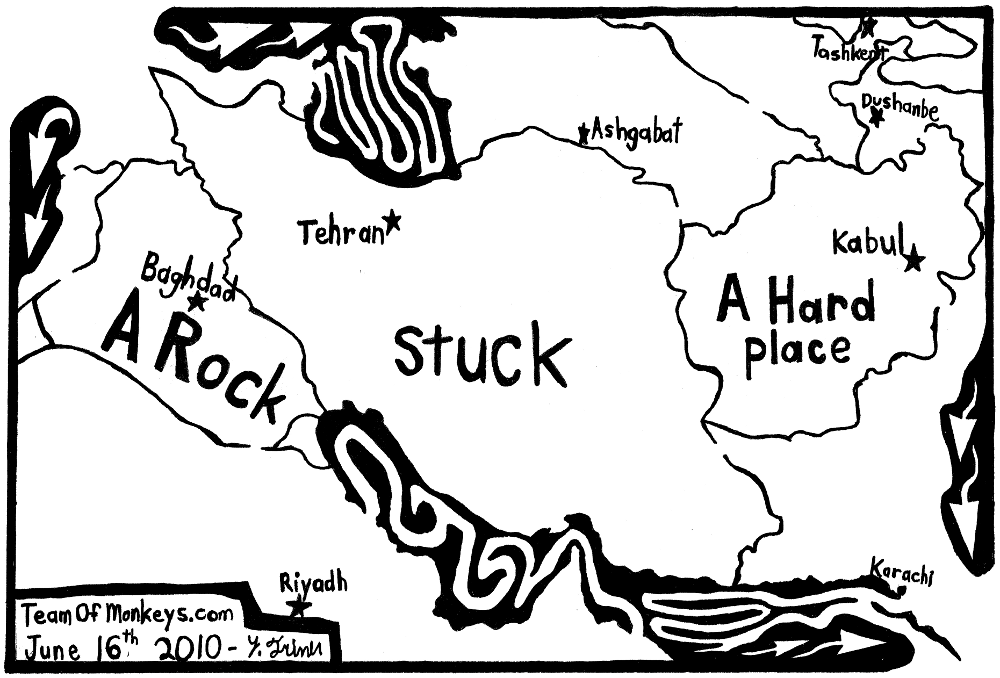 Maze cartoon of a map of the middle-east. Iran is marked as "Stuck" and Iraq is "A Rock" and Afghanistan is marked "A Hard Place. To allude to the fact that Iran is stuck between a rock and a hard place. Created by Yonatan Frimer
Click here for a printable, hi-res version of this maze
Click here for the maze solution.
Next Maze >>
More on this maze's topic:
The United Nations Security Council approved a new round of sanctions against Iran last week for its refusal to curb the country's nuclear program, which the U.S. and its allies suspect is aimed at producing weapons. Iran denies that.
President Mahmoud Ahmadinejad said Iran favors a dialogue with the West, but will announce its conditions soon. He said the carrot-and-stick approach doesn't work and Iran will not make "one iota of concessions" to the West.
"You showed bad temper, reneged on your promise and again resorted to devilish manners," he said of the powers that imposed sanctions. "We set conditions (for talks) so that, God willing, you'll be punished a bit and sit at the negotiating table like a polite child," he told a crowd during a visit to the central Iranian town of Shahr-e-Kord. His speech was broadcast live on state TV.
Click here to read the full AP article
Next Maze >>